Hélène de Montgeroult
Of course you have heard this name before. You know this name by heart, and you know how famous this woman was in her time.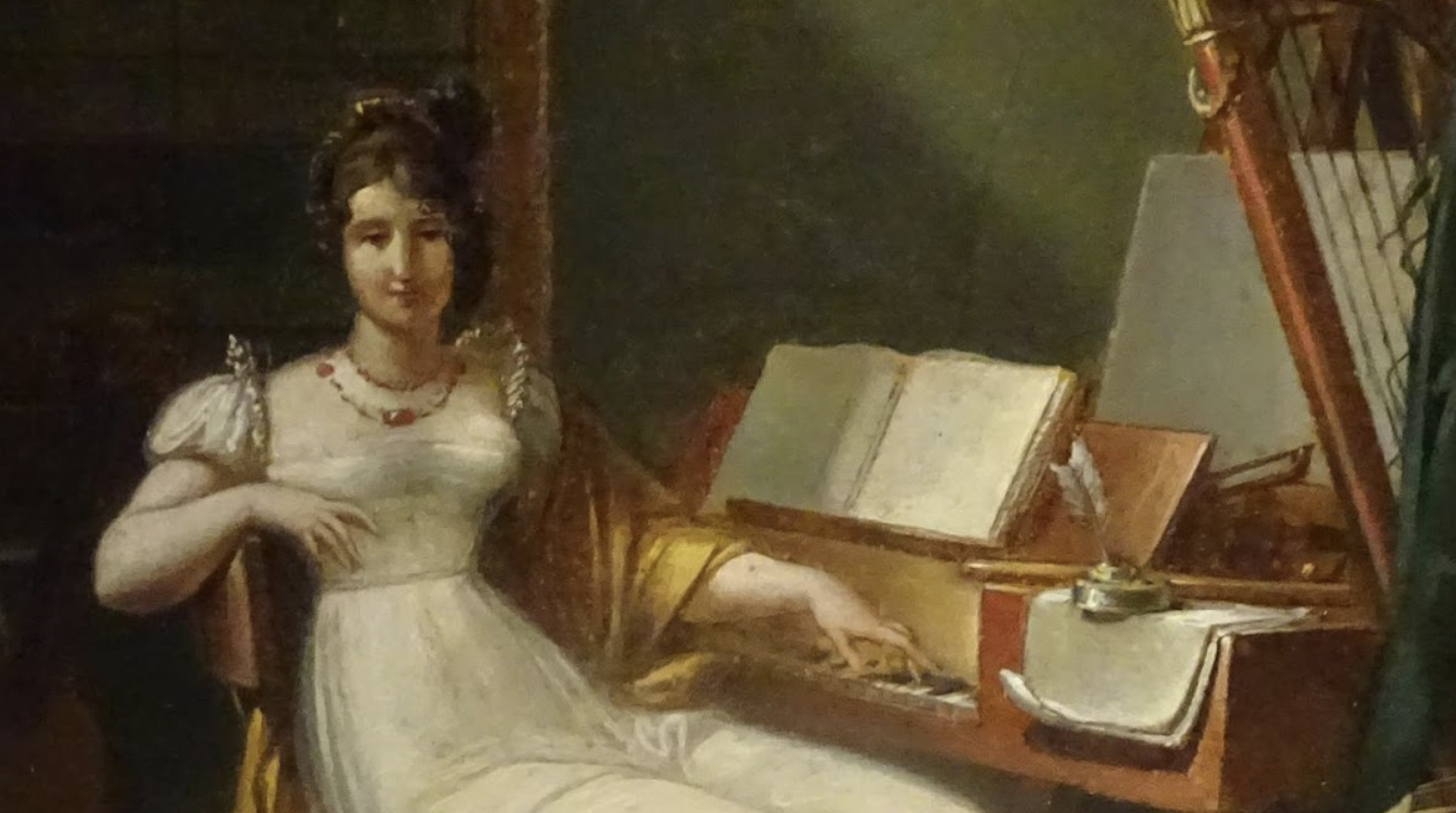 A Revolutionary Musician

March 8, 2023


Of course you have heard this name before. You know this name by heart, and you know how famous this woman was in her time.
You know that her music prefigured the romantic movement ahead of most leading romantic composers, and you know that her teaching method influenced musicians all the way up to Debussy, if not to our own time, in an unbroken lineage.
You even know that she was a founding professor of piano at the famed Paris Conservatoire.
And you know that her peers called her "the best pianist of her time."
Of course you do.

Hélène de Montgeroult!

If we really are honest, however, you have probably never heard her name. And if you had ever encountered it, you have probably forgotten it...
So, look at her name, and memorize it now, for good, because this composer, this pianist was not just talented. She was deeply influential.

Hélène de Montgeroult.

It was not her birth name, but it was the name she used throughout her career.
She was born Hélène de Nervo on March 2, 1764 in Lyon, France, in a recently ennobled family.
As a side note of interest, her younger brother, Christophe Olympe de Nervo, took part in the American War of Independence, and was even honored by George Washington himself in 1789! What a time to be alive.
The young Hélène was very quickly attracted by the keyboard and music, even though it does not appear that her family was particularly artistic.
We don't know much about her formal training, but it is likely that she eventually took some lessons with Muzio Clementi, and perhaps with Nicolas-Joseph Hüllmandel and Jan Ladislav Dussek as well, both of whom are said to have studied with C.P.E. Bach. She most likely also studied with other professors, especially as a child, but information is unfortunately lacking.
In any case, she quickly made a reputation for herself as a harpsichord and pianoforte virtuoso in the fashionable salons of Paris before the French Revolution, held by notable women such as Elizabeth Vigée Lebrun, the talented and successful court portraitist (known in large part for her beautiful portraits of Queen Marie-Antoinette), as well as Madame de Staël, the rich and powerful daughter of Swiss banker Jacques Necker, Louis XVI's powerful finance minister.
In short, she was quickly introduced into important circles of high society, close to the Royal Court in Versailles and to the movers and shakers of Paris in bubbling, pre-revolutionary Paris.
Her arranged marriage at age twenty to the much older Marquis of Montgeroult gave her the name she is remembered by. Both she and her husband were favorable to important reforms during the Revolution, hoping for the establishment of a constitutional monarchy.
They were certainly not radicals in increasingly radical times. This eventually caused the downfall of her husband, who was apparently involved in some plot to save Queen Marie Antoinette, but was betrayed. He was arrested on his way to Italy by Austrian forces in the Italian Piedmont, and he died in mysterious circumstances during his imprisonment just weeks later.
After a harrowing experience, Hélène de Montgeroult, who had been with her husband during the violent arrest, was then left on her own during one of the most turbulent times in French history. Amazingly, it would seem she barely escaped the guillotine, thanks to her quick thinking and talent: she arranged to brilliantly improvise variations on the revolutionary hymn, the Marseillaise, in front of the Revolutionary Tribunal, which decided to spare her life. If this is true, one can only admire her courage and skill!
The French Revolution was not just a movement to change the political system. It led to a complete rethinking of the functioning of society and of the role of the state. In music, one of the most important achievements of the Revolution was the founding of the Conservatory of Music on August 3, 1795, with the goal of offering a free musical education to the talented aspiring musicians of the nation.
While there had been precursors to a national music school, most notably with the creation in 1784 of a Royal School of Singing and Declamation, an outcrop of Louis XIV's Royal Academy of Music founded in 1669 (which actually became what we know today as the Paris Opera), the Paris Conservatory was truly a radical project, and in the very first years it had as many as 600 students annually, studying most instruments, with new areas of study added every year.
Most professors were automatically grandfathered into the Conservatory, many of whom had been faculty members in the previous Royal School and National Guard's Music School, but a number of positions were filled by open competition.
Hélène de Montgeroult won admission through the competition option, as a full professor of keyboard in the conservatory's very first year, with a salary equal to that of the other professors (2,500 Francs), all of whom were men!
Most amazingly, she was hired to teach the all male keyboard classes. This was not the case with many subsequent female professors in the conservatory in the 19th century, who could only be hired to teach female classes, and then only in certain instrumental categories (violin studies, for example, were reserved for men only until the late 1850s).
Hélène de Montgeroult ended up leaving the conservatory after only three years, for health reasons (and perhaps political reasons we have too little factual information about). We do know that she did not have to depend on her salary at that point to ensure her living and the raising of her son, as she had gotten remarried in 1797 (only to divorce in 1802) and gathered enough private students to ensure regular income on her own.
In addition to her teaching, she also began to hold a musical salon every Monday at her home, where some of the very best musicians of her day performed, such as the violinist Viotti, with whom she often played, Kreutzer (violinist of Beethoven Sonata fame), Cherubini (whom Beethoven considered one of the very best composers of his time), and Moscheles (who had also been close to Beethoven while in Vienna).
Her Musical Salon was also attended by noted composers Gossec, Grétry, Méhul, Boieldieu, Auber, and many others whose names you may not know either, but which were at the center of musical life in France and Europe at large in those heady years of the First Empire and Restoration.

At the same time, she composed works for piano, primarily classical-form sonatas, along with a very significant Method for piano, which comprised 114, much more experimental, etudes.
The nine Piano Sonatas, composed between 1788 and 1812, the six Nocturnes for voice and piano, and her 114 Etudes completed in the mid 1810s, constitute the major part of her musical output.
Her philosophy of piano playing was key to the development of the Romantic style, long before Chopin's delicate hands made their way to Paris. Indeed, she insisted that the pianist's role was to replicate the qualities of singing in their melodic playing, which was opposed to the percussive style of playing that many virtuosos of her time built their fame on. Vigée Le Brun wrote in her memoirs that Montgeroult's playing "made the keys speak".
Her method, once published, became a tremendous success all across Europe, and many other methods by other pianists made parts of her ideas their own. It is certainly her crowning achievement, and one we can still benefit from today if we go back to studying it.
In her works, one can absolutely hear the attention to the melodic qualities she sought to highlight, which were in part influenced by the opera works of her time, many of which were Italian or heavily influenced by the Italian bel canto tradition.
One of the unusual aspects of her musical ideas and influences was her deep love and knowledge of the works of Johann Sebastian Bach, who was almost completely unknown, especially in France, at this time in history. It is probable that Bach's music was passed on to her through Dussek and maybe Hüllmandel, and is certainly something that would have been particularly unexpected as a source of inspiration for a French musician at that time, when Italian opera reigned above all other music!
Everyone attributes the rediscovery of Bach with Mendelssohn's resurrection and production of a performance of Saint Matthew's Passion in 1829 in Berlin, which did lead to a new-found love of Bach in the public sphere. But to some connaisseurs, Bach was already a major, beloved influence. This was, incidentally, also true for Beethoven, who knew Bach's keyboard works intimately, but also for Mozart, who "discovered" Bach "late" in life.
Anecdotally, one of Montgeroult's lovers, the Baron Louis de Trémont (the amateur painter who made the first portrait of Montgeroult in this article), an official in Napoleon's government, was a huge art and music lover. When he went to Vienna on official state business, he made sure to meet Beethoven, which he was able to do with a letter of introduction from Cherubini, one of his friends in Paris, who was also close to Montgeroult. The musical world was always small, and very closely knit. Who knows how much Montgeroult may have influenced Beethoven, and vice-versa?
After her romance with the Baron de Trémont, Montgeroult decided to marry once more (her third!) to Edouard Dunod de Charnage, in 1820. He was nineteen years younger than she was, but she was clearly a very independent woman who could care less about letting social customs get in the way of her choices.
Hélène de Montgeroult died in 1836 at the age of 72 in Florence, Italy, where she went in hopes of finding kinder climes for her health. She is buried in the cloister of the Santa Croce Basilica.
Unfortunately, too few musicians have made recordings of her works, nor have they been much performed. I would hope that many more performers would begin to study her music and make it part of their performances and future recordings. It is quite worthy of the public's attention!
I know I will certainly be practicing some of her works now that I am getting to know her story and importance to the history of music.
Her Etudes in particular are true gems that prefigure the Chopin Etudes, but also works by Schumann. Some even have a Schubertian ring to them. Some experts say that aspects of her etudes even announce the arrival of Brahms, who was not yet born when she composed these works!
Her Method, totaling 700 pages divided into 3 volumes, was a massive work written over the course of 24 years. It was started at first to help teach her student, Johann Baptist Cramer, who became known as a great virtuoso who also composed his own Studies years later.
Amazingly, it is quite likely that Robert Schumann and his wife Clara Wieck Schumann were also very familiar with this Method and Montgeroult's music, as Clara's father Friedriech Wieck, a very reputable piano teacher, used the German translation of her method in his teaching (and he had of course taught his daughter Clara, but also Robert himself, which is how the two lovers met...).
Her method was also used by the pianist and composer Marie Bigot as support material when she gave lessons to Fanny and Felix Mendelssohn, during their time in Paris in 1816.
Anecdotally, Marie Bigot was also an important musical figure in these years. Her early death at the young age of 34 didn't help her establish as long-lasting of a reputation as Montgeroult, but clearly her reputation was already impressive if the Mendelssohn wunderkinds came to Paris in part to study with her!
One of the things that made her stand out in the Parisian music world, was that she had lived for several years in Vienna before moving to Paris, where she had befriended Haydn, Salieri and even Beethoven, whose Appassionata Sonata she performed privately for him. The composer was so moved that he actually gave her the autograph score to this extraordinary work! Marie Bigot was later instrumental in introducing Paris audiences to Beethoven's piano and chamber music in her own musical salon, attended by the best musicians and composers of the day.
While Montgeroult continued to teach privately even after her departure from the Paris Conservatoire, her Method was used by many professors of the Conservatoire who preferred it over the official method of the institution! This was how many pianists of the 19th century, and future professors of the Conservatoire, came to be influenced by her approach to piano playing, even when they did not benefit from lessons from her in person.
One of these young conservatory students was Antoine Marmontel, whose love of, and recognized debt to, Montgeroult's Method he passed on to his own students decades later, among which stand out Georges Bizet, Isaac Albéniz and Claude Debussy…
In fact, many music historians consider that Montgeroult was the true mother of the French piano school, influencing French pianism directly through to the 20th century, if not to our own time, in part through Marmontel's student Louis Diémer, whose many great students included Robert Casadesus, Alfred Cortot and Yves Nat. One could decline this lineage to include Cortot's most famous students, including Clara Haskil, Dinu Lipatti, Samson François, Gina Bachauer, Marcelle Meyer and Aldo Ciccolini, to name just a few!
If you love piano repertoire, to not remember her name and to not know her music, while having indirectly benefited from her teaching and creativity through all these other great names in her musical lineage, is a true injustice.
Today, I call on you to remember her name. I know I will.

Hélène de Montgeroult!

The greatest pianist of her time.


      *******
Below are a few links to begin exploring her music.

-Excerpt from the beautiful recording by Edna Stern on a piano from the 1860s, on the Orchid Classics label (which happens to be the great label I also work with)
Piano Sonata No. 9 in F-Sharp Minor, Op. 5 No. 3: I. Allegro spiritoso

-Lovely live performance by Care Hammond at Wigmore Hall in 2021 of 7 Etudes
Hélène de Montgeroult - 7 Etudes


Free to you to go on exploring on YouTube and your favorite streaming services!

Please note: Much of what we know about Montgeroult today is thanks to the impressive work of Jérôme Dorival, who wrote the only authoritative biography of the composer and pianist, published in 2006. It does not seem to have been translated into English, however, so you will have to brush up on your French: Hélène de Montgeroult, La Marquise et la Marseillaise (published by Symétrie, 2006).

If you like what you read, please consider subscribing to this newsletter!